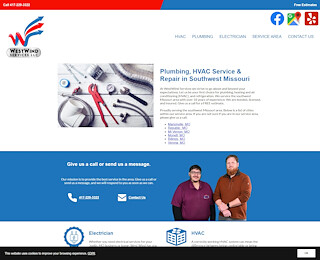 You'll save on heating and air conditioning in Billings, MO when you reach out to WestWind Services. If you're in need of routine HVAC services or emergency repairs, there's no better company to call on for quality work and customer satisfaction. With so many companies offering heating and air conditioning near Billings, MO, it can be confusing knowing which one to hire when you need an expert on-site working on your equipment. We're happy to demonstrate the advantages of hiring our team.
5 Reasons Why We Are the Best Choice for Heating and Air in Billings, MO
1. Have you noticed that a lot of service agencies leave you waiting by the phone after you leave a recorded message? WestWind Services will never leave you hanging when you need HVAC services. Unlike our competition, we believe one of the best ways to keep potential clients happy is by providing exceptional customer service. If we don't pick up when you call, you can know for certain we will return your phone call in a timely manner.
2. Free inspections on HVAC near Billings. We never charge for equipment inspections, so you'll save money right from the start when you need troubleshooting on a heater, AC, or HVAC system. You won't experience any pressure to hire us after the inspection, either- we simply want to provide you with the best value when you're comparing HVAC companies. Our complimentary inspections are an indication of the type of service you can expect if you hire us to work on your system.
3. Quality air services- heating and cooling repairs, upgrades, seasonal maintenance, and equipment replacement when the time is right. Our technicians are highly skilled in working on all types of equipment- you'll know the job was performed correctly when we leave your home or place of business. Whatever your reason for calling us, you can have peace of mind knowing that our experts are on the job.
4. Best air conditioning and HVAC contractors in Billings, Missouri. Ask within your circle at work or among the community and you'll hear our name mentioned time after time as a company providing top-quality heating and air conditioning in Billings, MO. If you need expert advice over the phone, a pre-season maintenance visit, equipment repairs, or a complete HVAC overhaul, we can exceed your expectations as your HVAC company.
5. We're here when it's time to replace out-dated equipment, providing professional recommendations on how to choose an efficient new system. Instead of advising a replacement the first time we visit, we'll look for ways to save you money through repairs. When it no longer makes sense to repair your HVAC, we'll help you find the right replacement for your home or business.
Heating and air conditioning in Billings MO has been made affordable and easy to comprehend by WestWind Services. If you need to speak with someone from our team, call our helpline at 417-229-3322 or contact us any time online at westwind.llc/contact-us.